What we 
DO

?

Billing Software We provide VAT ready POS Billing software, VAT for different industries like Retail, Restaurant, SALON/SPA, Night Club, Flower Shop, Mobile Shop, Roastery Shop, Garments, Pharmacy, Grocery in Dubai , UAE.
POS GCC Software(Point of Sale) looks to solve every day operational issues faced by small and medium businesses in the retail and restaurant industry. It cuts back the complications involved with billing, inventory management and accounting. It also offers comprehensive reporting, which makes it simpler for you to analyze the situation and take decisions for improvements in your trade. This user-friendly software requires no technical knowledge for usage.

POS GCC is The Leading of software development based company, focusing its strength with Web Based Enterprise Solutions, Custom Application Development, Web Development and many more to gratify the requirements of both small as large businesses.
WHY CHOOSE US
We Ensure Perfect Quality with best Point of Sale System Dubai UAE
W4YG's Resto POS
W4yg's POS in Dubai Hotel management system allows you to easily manage all your front desk operations, reservations, housekeeping, and the complete channel contribution from one place to another.
W4YG's Retail POS
Our Retail Software is suitable for Retailers in different field such as Garments, Footwear, Sporting Goods And so forth. The Software allows you to manage Inventory and Customers and Dig deep into the store analytics.
W4YG's Salon POS
Our Salon POS is very fast. It quickly enters sales data to manage your Sales. It Links Appointments including processing times, allowing more technical services and Quickly gets the help of health and beauty businesses.
W4YG's Laundry POS
The Laundry POS Software is designed to enhance the management of laundry shops and help implement systems that smooth the process. Our POS includes the washing delivery schedule system.
CUSTOM ADNAVCED SOFTWARE DEVELOPER'S
We provide All kind of POS softwares in Dubai UAE (Restaurant, Grocery, Super Market, Mobile Shop, Flower Shop, Salon/SPA, Night Clubs, Garments, Roastery Shop, Chop Shop etc), Website Design/Developement, Mobile Application Development, E-Commerce Websites, Digital Marketing, SEO services, Domain/Hosting Services throughout UAE,OMAN,Saudi Arabia, India with affordable prices.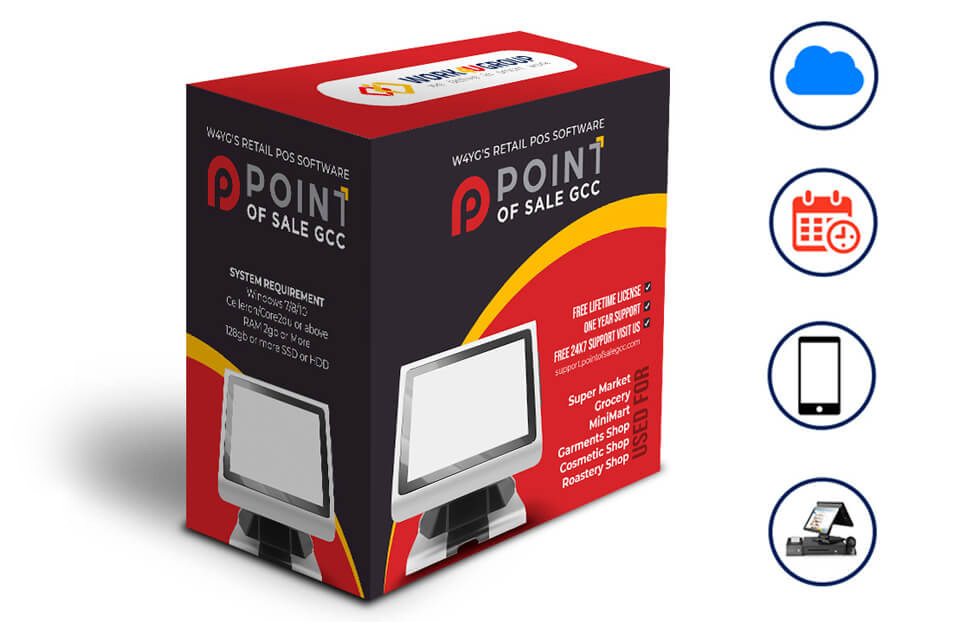 W4YG'S GROUP
Affordable Pricing List
OFFLINE
License: Free*
Support*: One Year
Software: 1/terminal
Product: W4YG'S Any POS Software
24/7 Online Support Available
GET QUOTE
ONLINE

Domain/Hosting: Renewal/year
Support*: One Year
Device: Any Device
Product: W4YG'S Online POS Software
24/7 Online Support Available
GET QUOTE
LIFETIME
License: Lifetime*
Support*: First THREE Years
Software: 1/terminal
Product: W4YG'S Any POS Software
24/7 Online Support Available
ASK PRICE
Welcome to Our
Latest Blog's Section
W4yg's is the Best Salon POS software for small business in [...]
POSGCC best Offer for You Today
The world has become so fast placed that people don't want to stand by reading a page of information, they would much rather look at a presentation and understand the message. It has come to a point
OUR SERVICES IN
United Arab Emirates
Oman, Saudi Arabia, Bahrain, Qatar.
LET'S BUILD SOMETHING GREAT TOGETHER!