Retail POS Software Dubai UAE
Manage Billing Now Easy and Quicker
POS Software Dubai And POS software for supermarket
UAE
W4YG'S POS provides all kinds of Retails POS software in Dubai UAE, Saudi Arabia, Oman which includes Restaurants, Retail, Salon, Laundry Facilities, and Spas/Nightclubs. Point of Sale GCC is the Best POS software in Dubai.
In the grocery/Super Market store, many modules need to be addressed, such as return and waste, inventory, expiration and reorder management. The grocery POS system works as a great partner in such situations. This allows you to handle all cases out of stock quickly.
A grocery store/Super Market is a business where profit margins are driven by reports based on your actual customers. We have the best Pos software For Grocery in Dubai. Once you integrate reliable grocery POS software into your store, you'll be able to keep track of what customers have purchased and what's at your peak. This information can be useful for loyalty programs and other marketing campaigns.
W4YG'S RETAIL POS
FEATURES!!!
BACK OFFICE & FRONT OFFICE
Back Office: Full support for all the documents required in the store, Full management, Recording and storing Database,Verification of prices and Labels, Logs, Payments, Attributes to the goods, POS Record and Report. In short, The Back Office Module Manages the whole system of POS Retail Software.
Front Office: In front office you can see – Drop cash amount while login to POS billing screen, Fetch products by Scan barcode or you can find by Produt Name, Product Category etc, (Credit Customer Module, POS Record, Sales Return, Product Module access in POS Screen with User Permission)
LOGIN, SETTINGS & SUPPLIER MANAGEMENT
Login Screen: LOG IN SCREEN – Since we have very motivated software , it has the security system to access. Here, Authorised employees enter their PIN and their ID
Store Info:Create company master details as per your company information which includes the Information like Company Name, Mailing Name, Company Email, Postal Code, Fax Details, License Number, Multi-Currency etc.
Store Settings: System includes Terminal Settings, Email/SMS settings, Expense related Settings,TAX settings etc.
Supplier Management: Supplier Management includes New supplier creation, Supplier Payments, Supplier Ledger with periodically search report.
USER ACTIVATION, USER LOGS AND PAYMENT ADONS
USER ACTIVATION: Admin can add shop employees here. List of Registered Users gives the information about Employees User Id , User Type whether it is customer, cashier, manager distributor etc.User Name, Email ID, Contact No and their status – Active Or Non-Active are the rows provides in User's registration Form.
USER LOG DETAILS: LOGS – Admin can check the Login and Logout details of the employees.
PAYMENT ADONS: Different payment adons you can add from this module, You can choose these payment adons while billing from pos screen.
UNIT, CATEGORY AND PRODUCTS
UNIT MASTER: List of Units – Admin can add product unit. i.e, kg, nos, pieces, stripes.
CATEGORY: Admin can add categories type. The product belongs to which category ,For example. Backery, Cosmetic, Electronics. etc.
PRODUCT MASTER: Product entry form-Admin can add different product.
Product Entry Form Includes : ▪ Product Code ▪ Product Name ▪ Category ▪ Description ▪ Barcode ▪ Sales Cost ▪ The manufacturing City of the product ▪ Manufacturing Date and Expiry date of Particular Product.
SALESMAN, WAREHOUSE MODULE
SALESMAN MODULE: In this module you can add salesman with commission field enabled to calculate saleman commission based on his sales.
WAREHOUSE TYPE: In here you can add different types of warehouses for example Local or International etc.
WAREHOUSES: In here you can add your warehouse with name, address and few details which will easy to mention in accounting records.
CREDIT CUSTOMERS
Credit Customer: Admin can add the credits of the customer. Credit Customer Registration saves Customer's information, Status, Opening Balance amount. This Information helps us to solve any query, Admin can add the credits of the customer. Credit Customer Registration saves Customer's information, Status, Opening Balance amount. This Information helps us to solve any query.
RECEIPT ENTRY: Credit customer-Receipt entry Admin can add the details of credit and debited by the customer. When customer place order , they need to pay, Receipt Entry will save the details of payment. (Credit Customer Ledger)
W4YG'S RETAIL POS
BENEFITS!!!
WE PROVIDE POS SOFTWARES THROUGHOUT UAE,OMAN & SAUDI ARABIA
CUSTOM ADNAVCED SOFTWARE DEVELOPER'S
We provide All kind of POS softwares(Restaurant, Grocery, Super Market, Mobile Shop, Flower Shop, Salon/SPA, Night Clubs, Garments, Roastery Shop, Chop Shop etc), Website Design/Developement, Mobile Application Development, E-Commerce Websites, Digital Marketing, SEO services, Domain/Hosting Services throughout UAE,OMAN,Saudi Arabia, India with affordable prices.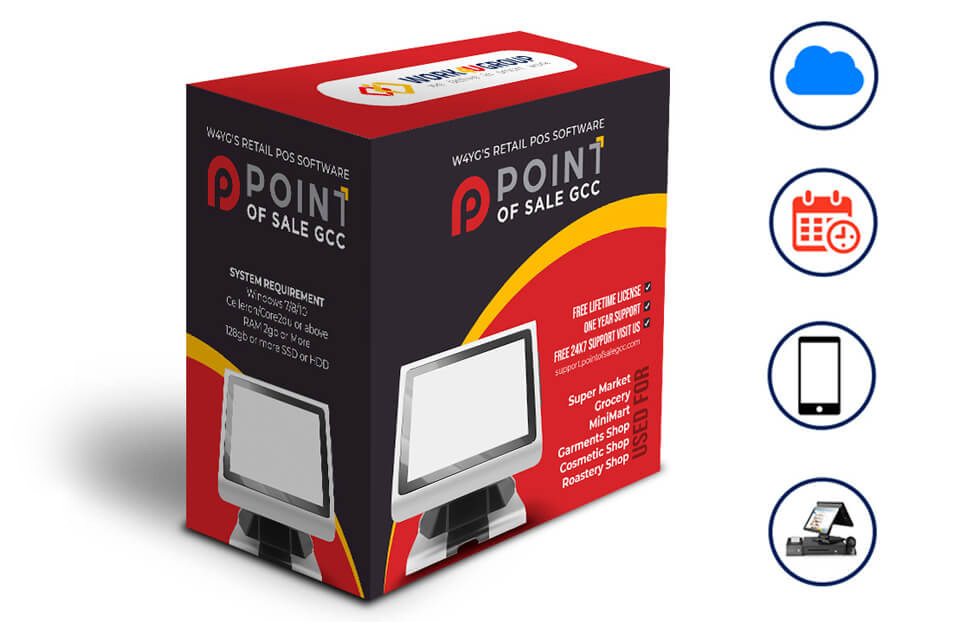 LET'S BUILD SOMETHING GREAT TOGETHER!