Laundry & Dry Cleaning POS Software
(CLOUD SOLUTION / OFFLINE)
Manage Billing Now Easy and Quicker
Laundry & Dry Cleaning POS Software, Web Application for
Laundry
Most of the companies require the essential features software to run and operate Laundry business. However, the best laundry POS software solutions in Dubai include value-added features to grow ahead. We differentiate premium features into the Laundry and put them on the "best" lists. Below we cover some essential system features and attributes that will enable your Laundry to differentiate itself and rise above the competition. W4YG'S best laundry software in UAE and open for customization based on user requirements.
Working Hour Logs
Personnel management is a massive benefit to users of the point-of-sale laundry system. Most staff and payroll management tasks are always done manually. But with a reliable POS system, those tasks can be automated and streamline
User Management
When using the Laundry Point of Sale system, each employee who has access to the system has a unique login code. This system knows who is working, when, and what they are doing there. We have the best POS software in Dubai, UAE. This not only helps the manager to keep track of the employees movements but also helps them to see the hours they have worked with system logs.
Good Responsibility
When business employees are using a point-of-sale system, they must log in before triggering any action taken by the system. It provides transparency about every transaction and interaction between the system and every employee, including customers.
Payroll Management
Keeping track of each employee's hours and ensuring they receive the exact amount on the pay scale can be a challenge if done manually. But when you handle a point-of-sale system process, it's simple and easy to accomplish. For example, when you have different employees in your store at the same time, each arriving at a different time, manually counting hours and overtime can be a big headache. When all those data and those calculations are completed automatically by your POS system, no employee is responsible for that. This saves time for both employees and ensures more accurate payroll. It also provides a perfect solution to business owners as they know there is no risk of human error.
Reporting and Analysis
We have more than 50+ useful reports to keep track your system / transactions up to date.
Laundry Software Features
Quick and Easy Billing
Daily/Weekly or Periodic report Paid / Due etc.
Payment Due Report
Payment Due Report with customer wise filter and many more
Payment Received Report
Payment Received Report with customer wise filter and many more
Category / Sub Category / Department / Product Management
Credit Customer Module / Receipt Payment / Ledger
Category / Department / Item list in English and Arabic language
Order Status Report
Clock In and Clock Out to manage employee working Hrs.
Barcode print for each item with Invoice no (Open for customization based on customer requirement).
Order Placement with Advance payment
Home delivery module with delivery person history
SMS alert on each order with Order Status
Order Management
Customer Management
Invoicing / Report Management
Quick/Easy status wise Order Analysis
Multiple Function and Features
Walk in or Customer wise Billing
Automatic Tax Calculation (Inclusive/Exclusive)
Customer Loyalty Points
Multiple Terminal Support
WE PROVIDE POS SOFTWARES THROUGHOUT UAE,OMAN & SAUDI ARABIA
CUSTOM ADNAVCED SOFTWARE DEVELOPER'S
We provide All kind of POS softwares(Restaurant, Grocery, Super Market, Mobile Shop, Flower Shop, Salon/SPA, Night Clubs, Garments, Roastery Shop, Chop Shop etc), Website Design/Developement, Mobile Application Development, E-Commerce Websites, Digital Marketing, SEO services, Domain/Hosting Services throughout UAE,OMAN,Saudi Arabia, India with affordable prices.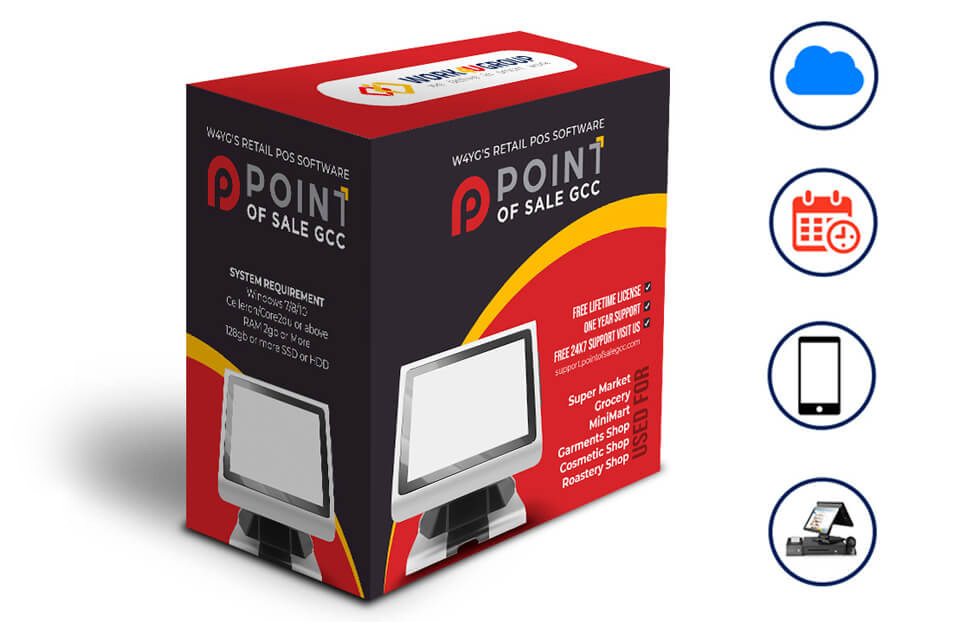 LET'S BUILD SOMETHING GREAT TOGETHER!