POS System Restaurants
Manage Billing Now Easy and Quicker
Point of Sales GCC providing the best POS system for restaurants in Dubai, with a reasonably priced, full-featured with POS platform for foodservice companies. We share your ideas for all the order and payment processing tools that you need, with additional capabilities to help your restaurant operate better.
The restaurant management app is seamlessly integrated into the POS GCC! Restaurant POS software that helps you streamline your work in restaurants. Our POS app works smoothly on Touch Screen POS Systems, Laptops, Computers or any tablets like Android, Windows or iOS to make sure you provide quality services to your customers in the UAE. Whether it's a restaurant that needs tables and kitchen management or a food truck that needs quick billing, customize W4YG'S POS for how you run your food outlet.
W4YG'S RESTAURANT POS
FEATURES!!!
BACK OFFICE & FRONT OFFICE
BACK OFFICE: Full support for all the documents required in the store, Full management, Recording and storing Database, Verification of prices and Labels, Logs, Payments, Attributes to the goods, POS Record and Report.
FRONT OFFICE: In front office you can see – Work Period, Billing, Open Tickets, Kitchen Display, Reports, Logout.
LOGIN, RESTURANT INFO & SETTINGS
LOGIN SCREEN: LOG IN SCREEN – Since we have very motivated software , it has the security system to access. Here, Customer or service employee s enter the PIN and their ID
RESTAURANT INFO: In Restaurant info, you get the detail information about the restaurant. It gives you the Address , Lane, Landmark, Contact number, Website Etc.
RESTAURANT SETTINGS: 'SETTING' is the second option on the back office screen. Setting Module is distributed into five various settings according to their functions.
KITCHEN SECTION, MENU CATEGORY & MENU ITEMS
KITCHEN / SECTION MASTER: Kitchen Section name, Printer name provided – You can add multiple kitchen sections and you can enable printers from particular kitchen sections.
LIST OF CATEGORY: Here you can add main Restaurant item category with vat and under kitchen section you can choose category Button Color.
MENU ITEM ENTRY: This is the menu item entry here you add menu item name and with item category you can choose image of the item etc.
MENU ITEMS MODIFIERS, PIZZA
MENU ITEMS MODIFIERS: Menu Item modifier Here you can add menu items add ons (for example if you buy Vada Pav and you need more Pav).
PIZZA: This is related to Pizza , here you can choose pizza size, pizza toppings and pizza master.
PIZZA SIZE: Here you can view, delete and update pizzas size.
PIZZA TOPPINGS : Here you can add the pizza toppings , choosing the pizza size.
STOCK ENTRY, NOTES MASTER & TABLES
STOCK ENTRY: Here you can add Particular Item Id and the entry date. Item information – Get idea about Item name , quantity.
NOTES MASTER: This will be the KOT – Bill Note
TABLES: In this, You can add the tables for dine in.
CREDIT CUSTOMERS
CREDIT CUSTOMER: Admin can add the credits of the customer. Credit Customer Registration saves Customer's information, Status, Opening Balance amount. This Information helps us to solve any query, Admin can add the credits of the customer. Credit Customer Registration saves Customer's information, Status, Opening Balance amount. This Information helps us to solve any query.
RECEIPT ENTRY: Credit customer-Receipt entry Admin can add the details of credit and debited by the customer. When customer place order , they need to pay, Receipt Entry will save the details of payment. (Credit Customer Ledger)
W4YG'S RETAIL POS
BENEFITS!!!
WE PROVIDE POS SOFTWARES THROUGHOUT UAE,OMAN & SAUDI ARABIA
CUSTOM ADNAVCED SOFTWARE DEVELOPER'S
We provide All kind of POS softwares(Restaurant, Grocery, Super Market, Mobile Shop, Flower Shop, Salon/SPA, Night Clubs, Garments, Roastery Shop, Chop Shop etc), Website Design/Developement, Mobile Application Development, E-Commerce Websites, Digital Marketing, SEO services, Domain/Hosting Services throughout UAE,OMAN,Saudi Arabia, India with affordable prices.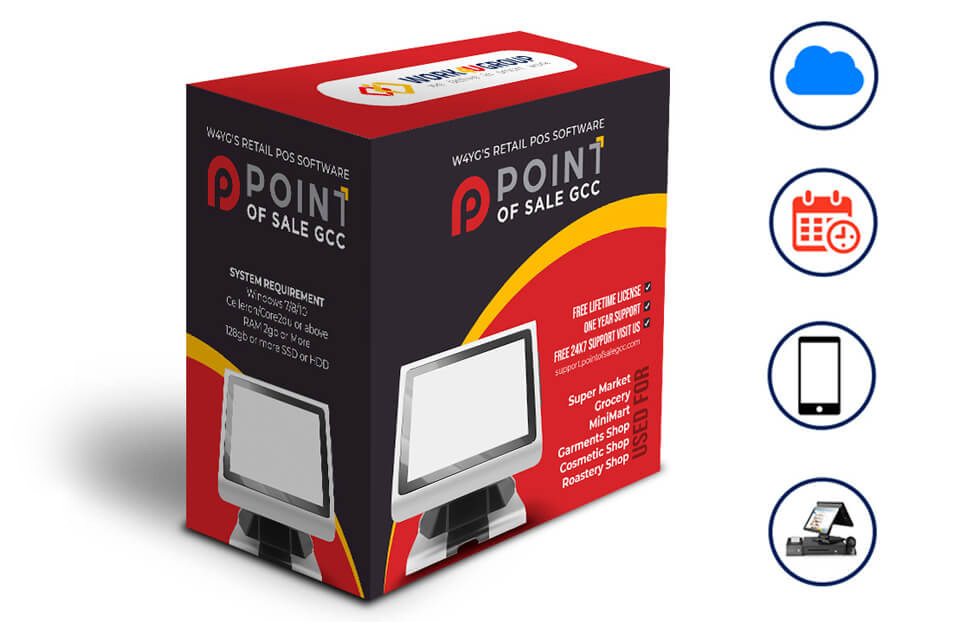 LET'S BUILD SOMETHING GREAT TOGETHER!